I've realized that when I go to the store to buy a bottle of wine, I am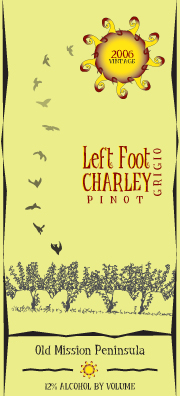 very open to the persuasion of a good label. If I could find FAT BASTARD in a Cabernet Sauvignon instead of just the Chardonnay and Merlot I've seen at Meijer, I'd buy it. It's funny and it reminds me of Thad's amazing capacity for mimicry.
And Five Friends, that's a good label for a night with some girlfriends. Winking Owl just sounds like it will make me wise if I drink it, and I love
Left Foot Charley
, which happens to be the brew company of Bryan Ulbrich, a friend I made one summer at Camp Arcadia. Great wine.
So today, as I polished off a bottle of Rex Goliath that I opened last night at Dave and Ilona's always great New Year's Party, I thought about labels and covers, and how I tend to judge books and wine and people by them. We talk about how we shouldn't, we know we shouldn't, but we do. I am beginning to think it's human nature. I remember the first time I saw Clint: the late afternoon s
un beat on his hair that was so blond it was almost blinding. And his smile spread across his tanned face as he entertained a toddler with a Mickey Mouse impression. He was the perfect mix of gorgeous and childish and I knew I wanted to marry him. It was that simple.
Maybe first impressions aren't that bad.
And as for the Rex Goliath, I think I made a good choice. After two glasses, I'm feeling pretty lugubrious, and ready for whatever the evening may bring, whether it be a rousing game of Scrabble, popcorn and a movie, or lazy chatting with the fam. Maybe I'll help polish off the rest of the Left Foot Charley too, while I'm at it.